Website for Enterprise iPad App Platform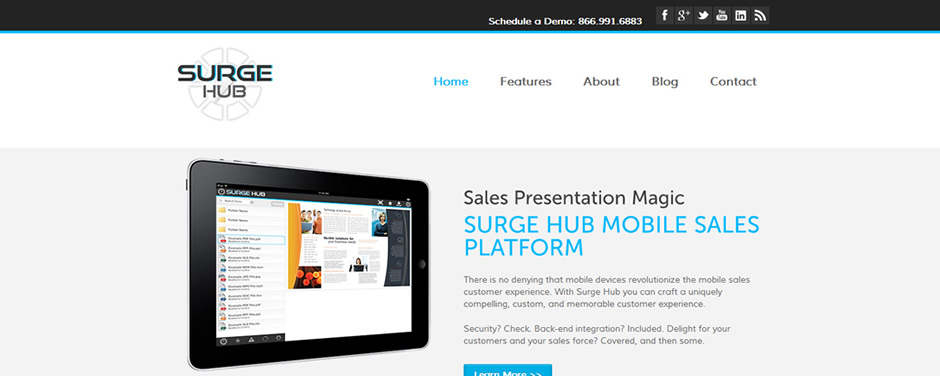 This project was another responsive website design project, which are always interesting.  The responsive element of this project was actually pretty critical  because this is a product site for an iPad application platform.  As such, the site has to not only work on tablets (especially the iPad), but it actually had to look its best on a tablet.  Not an easy feat, but we are very pleased with how this turned out. Here's a screenshot of the whole homepage: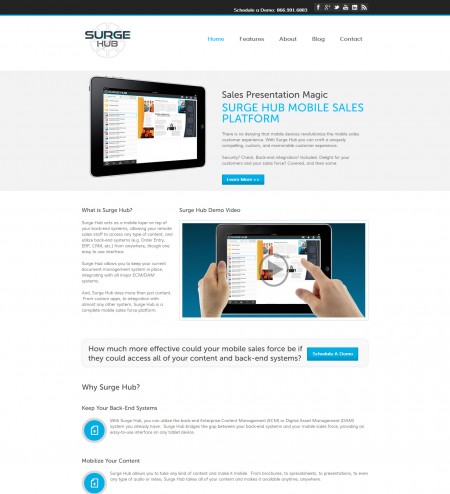 One of the interesting things about this project was the copy for the site.  As part of the project, we provided all of the copy on all pages.  And since, this is a product site optimized for both SEO and content marketing, there are a lot of pages.  With all of this content, though, the focus was on keeping it all approachable.  The main tactic used here are visual aides, such as headlines and icons to break up the text, and quickly orient the reader as to what each section was about.  Additionally, all of the sections were kept very short (especially on the homepage), so that users could get a general feel for the product quickly, then drill-down for more.
We also used several call-to-action buttons at key locations on the page.  Since the intent of this site is to not only educate customers, but also to drive leads, this focus on a funnel-approach on site architecture was critical.  That is, the site builds toward just a few goals, which allow the company to achieve its lead generation goals.
One thing that I really liked about this site was how the demo video turned out.  This company works with some great video folks, and to showcase this great video content, we wrapped it in a lightbox.  To us, this accomplished two (very important things).  First, it displays in a large size, with the background of the page dimmed, giving total focus on the video.  Second, since the video is not simply embedded, we did not have to use up a ton of space on the page to showcase it.
As part of this project, we not only provided all of the responsive website design and WordPress integration, but also all of the graphics used on the site.
Lastly, we utilized WordPress for the CMS duties for this site.  This required a lot of custom work, but the ability to easily manage all of this sites many, many pages of content make the effort well worth it.
Request a Quote
Already know what your project needs to take it where it needs to go? Great! Send us a quote request and we will let you how we can help you.
Contact Us
Wondering what it would take to crank up your project to the next level? Contact us and let's chat about how we can help you realize your project's full potential.