UX Mockup Landing Page for Healthcare Company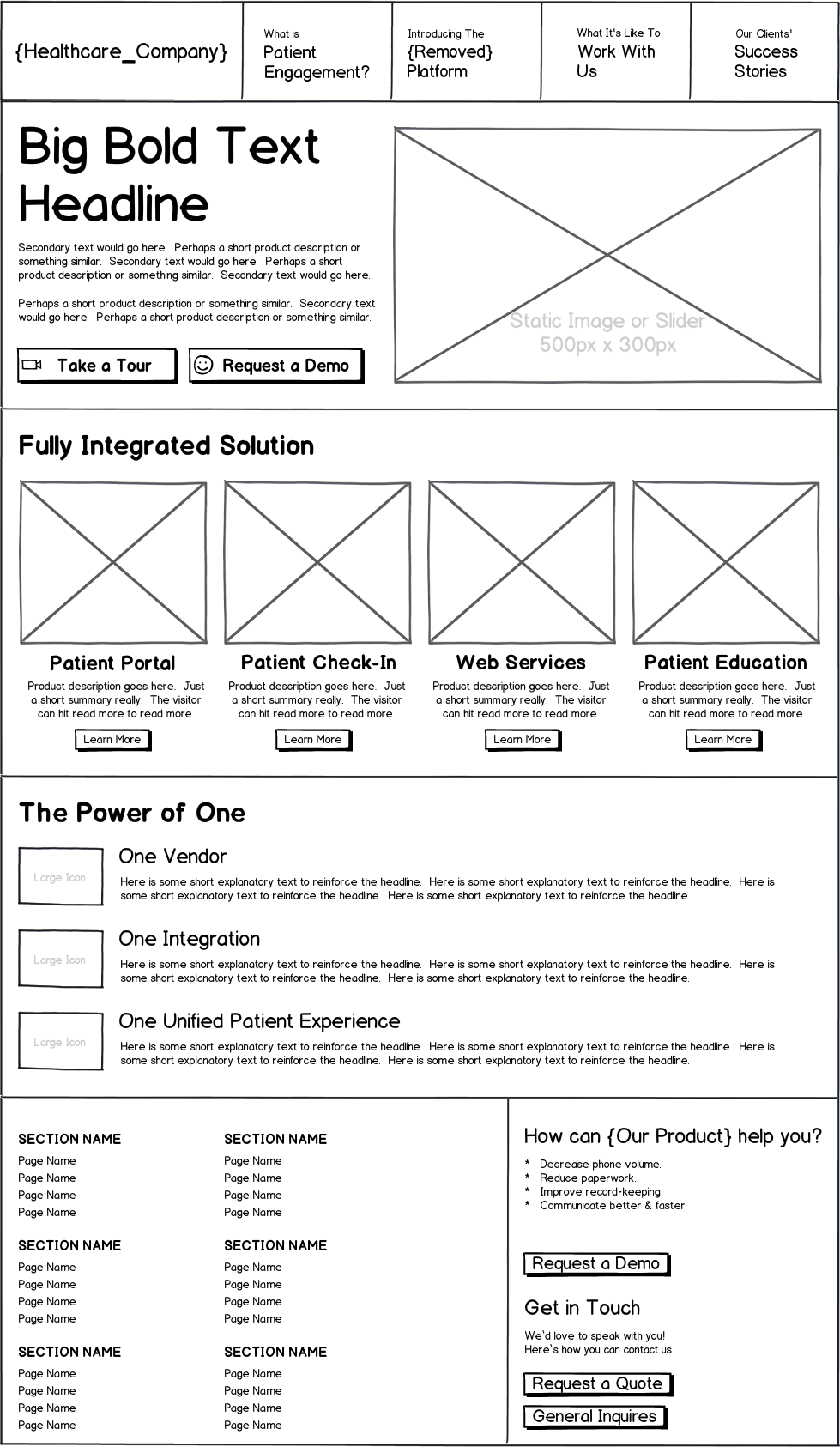 This project actually had multiple deliverables (several landing pages and a revamped home page).  This design, though, is indicative of the group.
What I was going for here were really two things.  First, I wanted to create a showcase for the product/service being discussed.  Second, I wanted to have ample calls to action to facilitate movement though the company's sales process.
To me, at its core, landing pages are about conversion.  Now, I don't necessarily mean the standard definition of conversion as converting a visit into a sale.  Instead, I mean converting visitors into customers.  In my mind, the process (roughly) looks like this:
Visitors–>Browsers–>Buyers–>Long-Term-Customers
For landing pages, I usually look at my job as getting people from the first step to the second in this process.  Sometimes you can facilitate a sale from a landing page (a good example is with small-ticket items like apps or ebooks).  With less trivial transactions, though, it is often requisite to walk people through a process where they can gain enough background information to be comfortable with (and ideally compelled to make) the purchase.
For this project, I wanted to communicate about the power of this product a few different ways.  First, I (heavily) use headlines and icons to make the page skimmable.  To me, the currency you often trade in with landing pages is attention, and I wanted to use as little as possible to at least give the visitor a cursory knowledge of the product.  Second, I put the main calls to action (the next steps in the sales process) at the top to keep them prominent and top-of-mind. And third, I was careful to structure the page to have the main "pitch" at the top (along with the CTA buttons) with supporting information as the user scrolls down the page.
Landing pages are an interesting lot in that, much like with ecommerce in general, their design often involves the intersection between psychology and behavior.  As a designer, I love the challenge of integrating several complex elements to weave one cohesive (and ideally successful) experience.
Request a Quote
Already know what your project needs to take it where it needs to go? Great! Send us a quote request and we will let you how we can help you.
Contact Us
Wondering what it would take to crank up your project to the next level? Contact us and let's chat about how we can help you realize your project's full potential.