Troublemaker Website Demo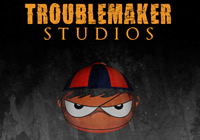 This project was a companion project to a website design concept I did for Troublemaker Studios.  Originally, this was published to a CD (and called the flash for the demo remotely, via autoplay).
The goal for this piece was to act as a demo of the website UX (User Experience) to explain how/why things worked the way they did.  I chose to do this in an interactive form not only because the client was a digital-production company, but also because I think it makes it easier to take the whole experience in.  Personally, I would rather see a design idea shown than explained in words.
Request a Quote
Already know what your project needs to take it where it needs to go? Great! Send us a quote request and we will let you how we can help you.
Contact Us
Wondering what it would take to crank up your project to the next level? Contact us and let's chat about how we can help you realize your project's full potential.