Iceland Health Landing Page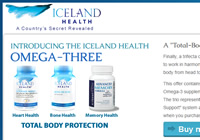 This was a quickie project with a very short deadline and very high aspirations.  The key with this landing page was to construct the design of the offer (and the call to action) so that it was the key element on the page.  Additionally, I needed to add a lot of supporting content in the form of testimonials, product copy, and company details.  I like how this turned out, mostly because of how clean it is for SO much information going on.
Request a Quote
Already know what your project needs to take it where it needs to go? Great! Send us a quote request and we will let you how we can help you.
Contact Us
Wondering what it would take to crank up your project to the next level? Contact us and let's chat about how we can help you realize your project's full potential.